Welcome.
Thank you for visiting the Chet Valley Churches Website where you will be able to discover more about us and what is happening. The Chet Valley Churches are part of the Diocese of Norwich
Why not take a virtual tour of our churches, set in beautiful south Norfolk around the River Chet and then visit the beautiful gardens of Loddon which were to take part in Open Gardens 2020.
Whilst we continue to mitigate the spread of Covid-19 we are gradually opening up our churches for acts of corporate worship and we will be uploading a weekly order of service for our Sunday services for those unable to attend. Do join us online.
Our morning Service online for Sunday (St Luke) will be available from 10.30am on 18th October

to view here

(The Service Sheet can be downloaded by clicking here.)
Each of our church buildings has different characteristics therefore not every church will be open as it is is essential that the building meets the required Covid-19 safety criteria. We shall endeavour to hold a corporate act of worship in our churches when it is feasible to do so; but again it will be dependent on being able to meet the required safe operating criteria. It means that we shall be experimenting with how best to do this.
Holy Trinity, Loddon & All Saints, Chedgrave will now be open for public worship on Sundays (see Calendar for times of services and details of what the current requirements are for attendance). St Mary's, Sisland is open on Sunday afternoons in August for a couple of hours for Quiet and Contemplation. St Margaret's, Hardley will shortly be opening during the day for private prayer.
Since 8th August everyone entering a Place of Worship is required to wear a face covering. Please remember to do so when coming to visit or attend worship.
The Calendar contains details of what is happening in the parishes of the Chet Valley.
Our Activities tab shows what we've been doing recently - "Not Xpressions" in August (2020).
Our weekly Church Newsletter can be obtained here
Whilst it is not possible to deliver copies of "Contact" or "Chet News" you can download copies from the website: Our October issue of "Contact" is available here and Our October issue of "Chet News" is available here
The Chet Valley Churches are a group of worshipping communities centred around the River Chet in south Norfolk. Our churches range from a tiny thatched church to a huge 15th century building, and our styles of worship vary too.
Like many rural churches, service times are not always the same every week, so if you're planning to visit us, check out the calendar to see what's on. During the Covid-19 pandemic our churches are closed to public worship and a service is available online.
In normal times our Sunday services encompass both traditional and contemporary styles. Some follow the Book of Common Prayer (BCP), or current versions of the Holy Communion service while others are aimed at being more family friendly, in particular All Together Worship and Xpressions Café.
To find out more about the Church week by week, have a browse through the website, or click on the link at the top of this page to find our Weekly News. Daily Prayer is is said most weekday mornings. To join in at home or on the move then visit the Prayer tab above.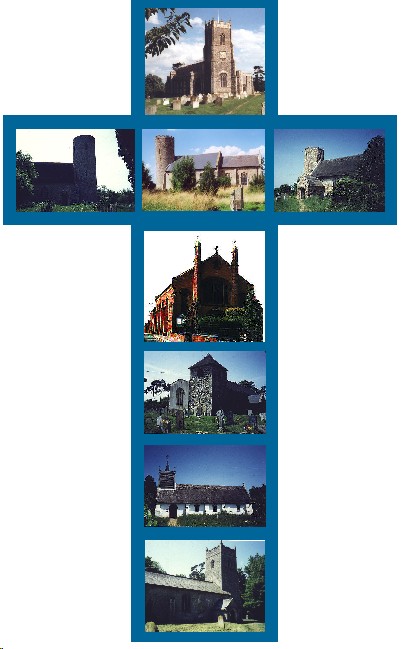 On the rest of the site we'll be telling you about who we are. We hope that you'll like what you find and come and join us for some of the events. To make things easy to start with, here are the main services. It is always worth checking on the calendar however, to see if there are any changes.